Coral Bay Nickel Corporation Receives Presidential Mineral Industry Environment Award
December 16, 2015
Sumitomo Metal Mining Co., Ltd.
Sumitomo Metal Mining Co., Ltd.'s subsidiary Coral Bay Nickel Corporation ("CBNC") received the 2015 Presidential Mineral Industry Environmental Award ("PMIEA") from the Department of Environment and Natural Resources of the Philippines. The award was presented to CBNC at the 62nd Annual National Mine Safety and Environment Conference held in Baguio City in the Philippines last 20 November 2015. This is the second successive year in which CBNC has received this award.
The PMIEA is the most prestigious award for companies involved in the Philippine's Minerals industry, and was awarded to CBNC for the Mineral Processing Category. The decision to confer the award is made after taking into account a range of criteria which includes plant environmental management, safety management, and contributions to the social development of the surrounding communities. Aside from the PMIEA, CBNC also won the Best Mining Forest Award and the Safest Mines Award for the Mineral Processing Category.
In addition to its contribution to the region through activities such as infrastructure development in the surrounding community and the rehabilitation of its tailings dams, CBNC does its best to minimize the environmental burden caused by wastewater and other elements of production in order to ensure that plant construction and operation do not have a major impact on the ecosystem.
* HPAL: High Pressure Acid Leach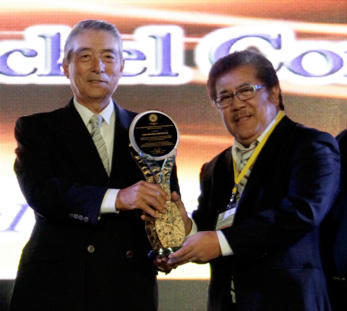 <Award ceremony>
Left: Takanori Fujimura, Director, CBNC (Chairman of Sumitomo Metal Mining Philippine Holdings Corporation)
Right: Arturo T. Manto, Vice President for Environment and External Affairs, CBNC