Sumitomo Metal Mining won the Viola MacMillan Award by Prospector and Developers Association of Canada
March 13, 2018
Sumitomo Metal Mining Co., Ltd.
We are pleased to announce that IAMGOLD Corporation ("IAMGOLD") and Sumitomo Metal Mining Co., Ltd. ("SMM") were jointly honoured with the 2018 Viola R. MacMillan Award by the Prospectors & Developers Association of Canada ("PDAC").
This award, named in honour of PDAC's longest serving president, is given to an individual or organization demonstrating leadership in management and financing for the exploration and development of mineral resources.
IAMGOLD and SMM were esteemed by PDAC for making a significant stride towards the development of Côté Gold project in Ontario by forming a joint venture, which enables to achieve a mutually complementary relationship by both companies and mitigate the risk. Côté Gold project is expected not only to become an important asset of both companies but also to greatly contribute to local economy in the northeastern part of Ontario and in Canada.
It is the first time for a Japanese company or a Japanese individual to be a recipient of an award by PDAC.
In the award ceremony held in the evening of Tuesday March 6, 2018 at Fairmont Royal York Hotel in Toronto, Canada, Mr. Hiroshi Asahi, SMM's Director, Executive Officer and General Manager of Mineral Resources Division, received the award together with Mr. Donald K. Charter, the Chairman of IAMGOLD, on behalf of both companies.
<About PDAC>
PDAC (http://www.pdac.ca/), founded in 1932, has 7,500 individuals and members of corporate groups worldwide.
The annual PDAC Convention is regarded as the premier international event for the mineral industry. It has attracted more than 25,000 people from 125 countries in recent years.
In 2018, its annual convention was held at Metro Toronto Convention Centre in Toronto, Canada from Sunday March 4 to Wednesday March 7 with many trade shows and investor exchange events.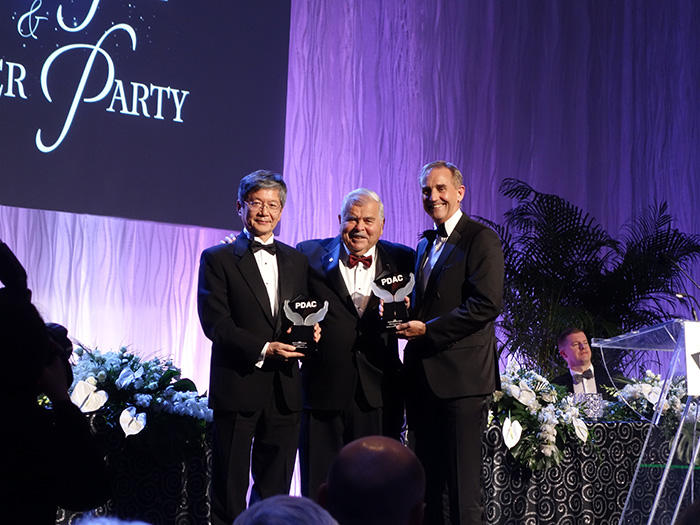 Right: Mr. Donald K. Charter Chairman & Director of IAMGOLD
Center: Mr. Edward Thompson Award Committee member of PDAC
Left : Hiroshi Asahi Director, Executive Officer and General Manager of Mineral Resources Division of SMM