Percentage of Recycled Input Raw Materials Used
The SMM Group procures copper and precious metal scrap from the market and recovers valu-able and precious metals from electric arc fur-nace dust and used printed circuit boards, among other sources. Production of electrolytic copper from recycled raw materials was approx-imately 103 kilotons, accounting for 23.3% (24.1% in FY2019) of production, a slight drop from the previous fiscal year.
| FY | 2018 | 2019 | 2020 |
| --- | --- | --- | --- |
| Total raw materials used (kt) | 11,228 | 10,873 | 10,753 |
| Recycled raw materials (kt) | 249 | 227 | 229 |
| Percentage of recycled input raw materials used (%) | 2.22 | 2.08 | 2.13 |
Slag as a Recycled Material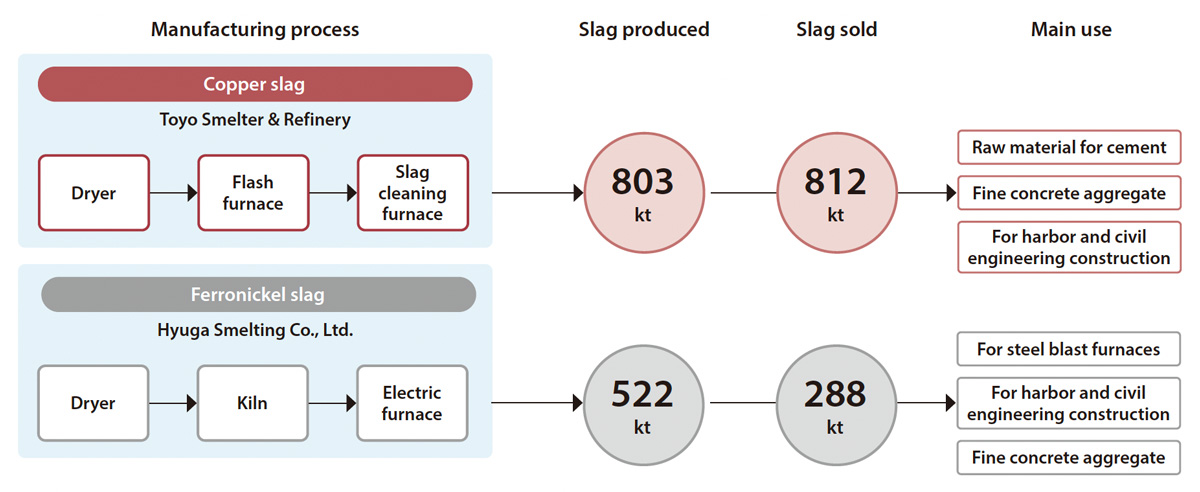 Copper slag is a by-product produced during smelting at the Toyo Smelter & Refinery, which manufactures electrolytic copper. The main use for copper slag (70% of the total volume) is cement production for Japan and overseas. With an iron content of about 40%, copper slag is widely used as a source of iron for cement.
The ferronickel slag at Hyuga Smelting Co., Ltd., which manufactures ferronickel used as a raw material for stainless steel, is mainly used at steel blast furnaces. With a magnesia content of about 30%, ferronickel slag is used as a source of magnesia for blast furnace flux.
Precious Metal Retrieval: Flow Diagram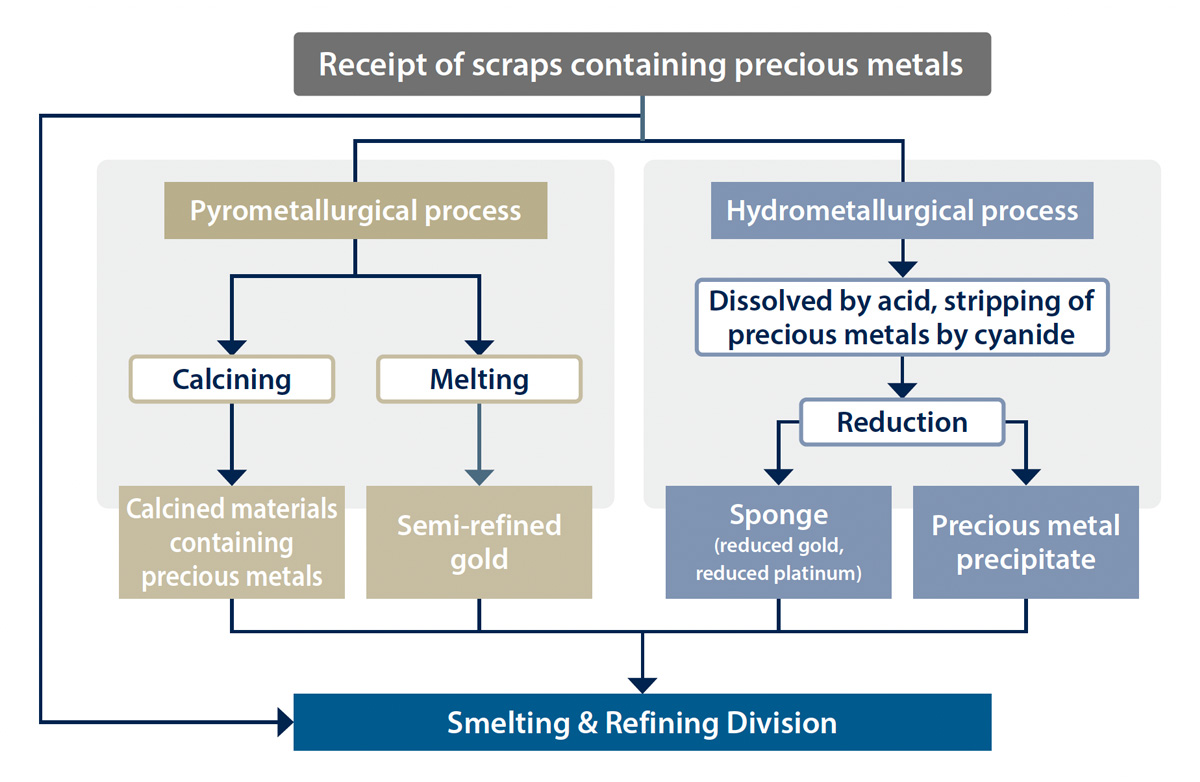 Collecting the likes of discarded household appliances and discarded electronic parts, as well as scrap created in the manufacturing pro-cess of those articles, from across Japan, SMM uses them as raw materials to recover and recy-cle precious metals (gold, silver, platinum, etc.).
After sorting the collected raw materials into parts that contain precious metals and those that do not, SMM uses the pyrometallurgical or hydrometallurgical process, depending on the composition and other aspects of the parts, to condense them, and then transports them to the Toyo Smelter & Refinery.
The Toyo Smelter & Refinery smelts and refines those condensed raw materials along with other copper and precious metal raw materials, and then recycles them into high-grade precious metals.