Approach
For SMM Group, realizing safe, comfortable work environments where employees can carry out their work with peace of mind is a crucial managerial factor. We believe it leads to greater relationships of trust between employees and the Group and higher employee motivation, as well as other positive effects, such as enhancing recruitment and employee retention rates and reducing turnover.
Policy
The SMM Group's CSR Policy states, "According safety the highest priority, SMM shall provide safe, comfortable working environments and seek to eliminate occupational accidents," and we are advancing initiatives that will foster a culture of safety in line with this.
Framework
Organizational Framework
We are building a line management framework in which the president is the person ultimately responsible for occupational health and safety and the person in charge of each business site is appointed health and safety manager of that site, operating under the guidance and supervision of the general managers of the relevant divisions. Constructive discussions on ways to improve health and safety in the workplace also take place during meetings of the Occupational Health and Safety Committee comprising representatives from both labor and management. Furthermore, the executive officer responsible for the Safety & Environment Control Department tackles occupational health and safety by providing guidance and advice to each department and each of the Group's business sites, as well as coordinating efficiently with the health and safety officer assigned to each divisions and business site in order to improve health and safety.
Occupational Health and Safety Management
In order to prevent accidents and illness caused by unsafe circumstances and behavior at business sites, we are advancing occupational health and safety measures based on the concept of hierarchy of controls*1. In Japan, we are building an occupational health and safety management framework as stipulated by the Japanese Industrial Safety and Health Act, and are formulating policies, targets, and plans. We are also implementing a one-year PDCA cycle and each level of the Company is working to reduce risk in accordance with their role. The business division with jurisdiction and the Safety & Environment Control Department are implementing internal audits at all business sites, patrolling each one, and we are advancing activities based on the Ministry of Health, Labour and Welfare's Occupational Safety and Health Management Systems (OSHMS)*2 guidelines. We have business sites that have received OSHMS certification through the Japan Industrial Safety and Health Association (JISHA) accreditation method, as well as business sites that have received or are preparing to receive ISO 45001 certification (migrating from OHSAS 18001).
At overseas business sites, we are building an occupational health and safety management framework based on local laws and regulations and are implementing initiatives including activities to ensure hazard prediction, risk assessment, and the improvement of equipment are at the same level as in Japan.
*1

Hierarchy of controls:
An approach for lowering risk to acceptable levels through prioritiza-tion as follows: Elimination of source of risk -> Substitution of source of risk -> Engineering controls -> Administrative controls -> Personal protective equipment Source: The US National Institute for Occupational Safety and Health (NIOSH)

*2

OSHMS:
OSHMS is an abbreviation of Occupational Safety and Health Management System and it is a management system that aims to improve occupational health and safety levels at business sites through the implementation of a set of processes known as the PDCA cycle (Plan, Do, Check, Act), based on cooperation between businesses and th
Initiatives
Initiatives at Each Business Site
Safety Initiatives at the Harima Refinery
At the Harima Refinery, which is shifting its business activities from the smelting and refining of zinc and lead to the production of nickel sulfate and battery materials, there have been no accidents among employees since July 2013. The main safety activities carried out have been "creating vibrant, open-minded workplaces by speaking openly and honestly," "prioritizing making equipment safer based on the three realities principle," and "transforming visual settings and awareness through signage and 3S (putting in order [seiri], keeping in order [seiton], and keeping clean [seisou])" activities. In order to ensure two-way participation in safety activities, we identify high-risk, unpleasant, and difficult tasks through small group discussions. After checking the actual tasks, the supervisors and on-site workers work together to make changes, such as radical upgrades of equipment or revisions to work procedures. Although we have made equipment fundamentally safer compared to before the shift in the work being done at the refinery and reduced the amount of dangerous work, we were concerned about a weakening of hazard awareness due to an increase in employees on short working hours and continued absence of accidents. Therefore, we are advancing safety activities that prevent complacency and enhance the safety-consciousness and hazard awareness of each individual employee.
Declaration of a New Era of Safety at Sumitomo Metal Mining Siporex Co., Ltd.
Due to the occurrence of many accidents involving contracted drivers falling from vehicle beds at Sumitomo Metal Mining Siporex Co., Ltd. (Siporex), in FY2019 the company declared a new era of safety and vowed to protect the happiness and safety of all partners involved with Siporex, not just employees. In order to prevent these accidents, company-wide measures have been taken, including installing fall prevention equipment in loading bays and cargo fastening areas within plants, and setting a rule that truck sideboards must be horizontally secured during loading to ensure sound footing, and these are improving safety results. Safety and occupational health activities at plants involve using past cases of serious accidents within the Group as references for ensuring thorough safety improvements. Looking at initiatives specific to each plant, the Mie Plant has identified "procedures not being followed and difficult tasks" as a significant source of accidents, and it is revising work procedures to make them highly efficient and safe.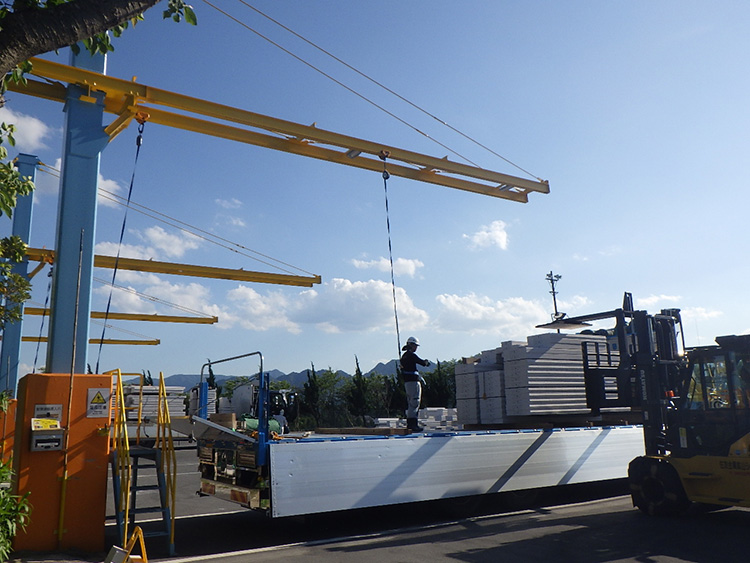 Siporex is also actively implementing various other measures and in January 2020, it recorded two years with zero accidents at both the Mie and Tochigi plants. In regard to occupational health, the Tochigi Plant is focusing on measures to tackle dust produced during product processing, and together with the Mie Plant, all workplaces have been declared Control Class 1 workplaces, meaning they maintain appropriate levels of occupational health.
Group-Wide Activities
In FY2019, we implemented the following initiatives in order to ensure safety.
Japan
Implemented comprehensive checks to prevent serious accidents due to falls, hose disconnections and the leak of hazardous substances, etc. because of the causes of fatal accidents in plants
Encouraged on-site risk assessments in Besshi district through work observations
Improved efforts at business sites with instruction and support through patrols by individual divisions, the Besshi-Niihama District Division, and the Safety & Environment Control Department
Improved efforts through the discussion and implementation of response to risk assessment issues at meetings of health and safety officers
Innovated hazard simulation training through content that facilitates thorough awareness of and compliance with safety rules at business sites
Overseas
Improved initiatives at business sites to provide instruction through patrols by individual divisions and the like
Effectively implemented initiatives such as 10-second employee hazard prediction and activities to reduce risk through work observations and the like
Continued to bring 15 employees a year to Japan for hazard simulation training
Occupational Health Activities
Promoted activities to reduce exposure to nickel and cobalt dust and the like, led by divisions together with business sites (such as strengthening progress management by committees and others, and strengthening management of maintenance as well as improvement)
Encouraged the improvement of work environments by providing on-site instruction and support from the Safety & Environment Control Department, Besshi-Niihama District Division, and other