Sustainability
Vision for 2030 and Material Issues
We have formulated the Vision for 2030 as a milestone for achieving our long-term vision of Becoming the World Leader in the Non-Ferrous Metals Industry.
Long-term vision and Vision for 2030
We have formulated the Vision for 2030 as a milestone for achieving our long-term vision of Becoming the World Leader in the Non-Ferrous Metals Industry. By making progress towards the achievement of Vision for 2030, Sumitomo Metal Mining will expand its potential for growth and sustainability, increase its corporate value, and achieve its long-term vision.
Long-term vision
World Leader in the Non-Ferrous Metals Industry
Have a global presence in terms of mineral resource interests and metal production volumes (be in the global top five)
Have leading technology and a unique business model that cannot be easily emulated by other major mineral resource companies
Be growing sustainably and stably producing a certain amount of profit
Be actively tackling social issues such as the SDGs
Have employees working with spirit
Vision for 2030
To Become the World Leader in the Non-Ferrous Metals Industry...
Our Vision for 2030 sets out what we want to achieve by 2030 in order to achieve our long-term vision.
At Sumitomo Metal Mining, we believe we can achieve growth and contribute to society by gradually and steadily building up achievements.
Material Issues and SDGs
We have defined the initiatives we need to complete by 2030 as the 11 Material Issues and set out our approach by identifying the SDGs that are strongly linked to each issue from the perspective of growth potential and sustainability. We realized there were shared approaches in our answers to each issue, so we have defined "responsible consumption and production" as our most important issue as it is directly connected to our management vision.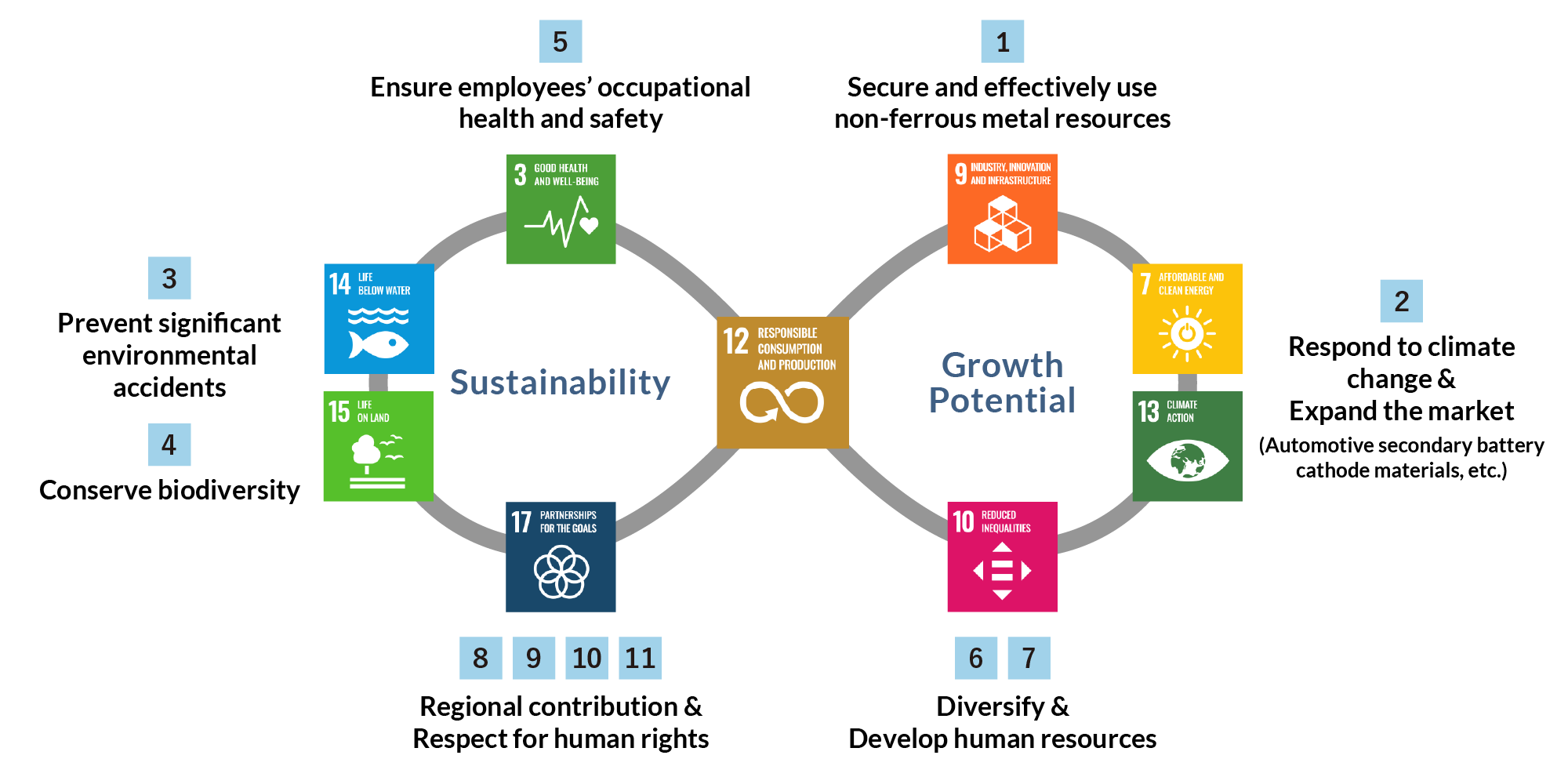 11 Material Issues and our Vision
1. Effective Use of Non-Ferrous Metal Resources

A company that generates resources through high technological capabilities

2. Climate Change

A company that actively undertakes climate change countermeasures, by reducing emissions and stably supplying products contributing to a low-carbon society, a future with zero greenhouse gases (GHGs)

3. Significant Environmental Accidents,
4. Biodiversity

A company that values water resources and biodiversity, and protects the richness of the sea and land

5. Employees' Occupational Health and Safety

A company where all employees work together with safety first the priority in a comfortable working environment as well as safe facilities and operations

6. Diverse Human Resources
7. Development and Participation of Human Resources

A company where all employees can take a vibrant and active part

8. Engagement with Stakeholders

A company that is appreciated and understood to be the world leader in non-ferrous metals

9. Co-Existence and Mutual Prosperity with Local Communities

A company that contributes to regional development and earns trust as a member of the local community

10. Rights of Indigenous Peoples

A company that understands and respects the traditions and culture of indigenous peoples

11. Human Rights in the Supply Chain

A company that undertakes Sustainability sourcing across the supply chain
The Process of Formulating Vision for 2030
STEP1
Start of examination of Vision for 2030
In December 2017, our CSR Committee (Currently, Sustainability Committee) made the decision to set 2030 as our next target year. We conducted discussions among officers in February 2018, and, based on these, began deliberations on Vision for 2030 within our CSR Subcommittees (Currently, 7 Sustainability Subcommittees).
STEP2
STEP 2 Review of Vision for 2020
In FY2018, as the target year of Vision for 2020 approached, we performed evaluations of our progress toward the targets and KPIs that we had set for each area of high priority under the vision.
STEP3
Identification of sustainability issues
From April 2018, having summarized outlooks for conditions in 2030 by the OECD and other organizations and international guidelines such as ICMM guidelines and GRI Standards, and having identified 89 sustainability issues, we worked to connect these issues with closely related SDG targets.
STEP4
Identification of material issues through evaluation of the materiality of sustainability issues
To identify material issues from the identified 89 issues, from October 2018 we began evaluations on two axes: evaluation by CSR subcommittees from social perspectives and evaluation by business divisions from business perspectives.
As standpoints for evaluation, we set three points— (1) degree of impact on society, (2) risks that threaten to increase if not actively addressed, and (3) opportunities gained if actively addressed—and evaluated these on a five-step scale.
We also conducted a workshop by 21 young management track employees and 20 Besshi district plant leader employees to consider a vision, and used the resulting opinions as reference in evaluations.
As a result, we identified 11 issues that were rated "5" from both social and business perspectives. Drawing on further exchanges of ideas with outside CSR experts, the CSR Committee identified a final 11 material issues in March 2019.
STEP5
Examination of the vision and KPIs
From April 2019, we began examination of the vision and of specific KPIs in CSR subcommittees corresponding to the 11 material issues. In July 2019, based on the examination by the CSR subcommittees, all executive officers and Audit & Supervisory Board members engaged in deliberations at a retreat for executives, and the CSR Committee carried out final examinations.
STEP6
Formulation and release of Vision for 2030
In December 2019, the CSR Committee issued its approval of Vision for 2030 and its KPIs. These were passed by the Board of Directors in February 2020, and released in March.
You can find detailed numerical targets for the 11 Material Issues here.