Approach and Policy
Significant environmental accidents have major impacts on the environment and communities, and can result in loss of the trust that is a prerequisite for business continuity. By improving our facilities and management to address intensifying natural disasters, we are working to prevent serious environmental accidents and mitigate impacts in the event of occurrence.
We are also working to rationalize our use of water resources and to reduce our emissions of harmful substances into the atmosphere and water, and are developing environmental conservation activities that place importance on biodiversity.
Operation of Environmental Management Systems
The president, in whom ultimate accountability resides, sets annual SMM Group Environmental Targets comprising policies, targets, and measures by taking into consideration environmental risks and opportunities for contribution. Acting on these targets, each business division (including each business site and contractor) establishes and operates under environmental management systems based on the ISO 14001 standard. We have acquired certification for environmental management systems at Head Office, branch offices, and all Group manufacturing sites.
Vision for 2030, KPIs, Results, and Action Plans
Vision for 2030: A company that values water resources and biodiversity, and protects the richness of the sea and land
1. Zero significant environmental accidents
KPIs (Indicators and Goals)
Results
Issues
FY2021 Action Plan
1) Promote improvements through the use of risk management and environmental management systems

Zero significant environmental accidents in FY2020.
Implemented facility improvements, etc.
•Carried out initiatives based on risk management system (RMS) and environmental management system (EMS) plans.
•Completed major construction and began operation of new mine wastewater treatment facility at Yaso Akakura (Fukushima Prefecture).

Continue facility improvements.

Continue facility improvements, etc.
•Continue management through RMS, EMS.
•Implement measures in line with FY2021 budget.

2) Reinforce and improve equipment and infrastructure to address increases in sources of natural hazard

Assessed risk through climate change scenario analysis; examined necessary adaptations.
Examined initiatives for Global Industry Standard on Tailings Management (GISTM).
Strengthened and improved equipment and infrastructure in response to increasing sources of natural risk.
•Formulated accumulation site management standards for closed/suspended mines.

GISTM compliance.
Continue strengthen-ing and improving equipment and infra-structure in response to increasing sources of natural risk.

Promote GISTM compliance.
Strengthen and improve equipment and infrastructure in response to increasing sources of natural risk.
•Strengthen management to ensure stability of accumulation sites, etc.
2. Reduce emissions of hazardous substances (year on year)
KPIs (Indicators and Goals)
Results
Issues
FY2021 Action Plan
1) Optimize water use; reduce emissions of hazardous sub-stances to the atmosphere and water

Examined SMM Group policy regarding optimization of water resources.
•Performed benchmark survey.
Reduced hazardous substance emissions into the atmosphere and water.
•Enforced management at business sites.

Examine policies regarding optimization of water use.
Further reduce hazard-ous substance emis-sions into the atmosphere and water.

Formulate SMM Group policy on optimization of water use.
Continue efforts to reduce hazard-ous substance emissions into the atmosphere and water at business sites.

2) Promote various environ-mental preservation and bio-diversity preservation activities, such as regular reforestation

Continued regular reforestation.
•Conducted regular reforestation at CBNC and THPAL.
Encouraged active use of recycled raw materials and reuse of slag.
•Strengthened settling to counter muddy water entering rivers during heavy rains in rainy season in the Philippines.

Continue regular reforestation.
Further promote effective use of secondary materials, waste, and other resources.

Continue regular reforestation.
•Continue greening of CBNC and THPAL.
Promote effective use of resources.
•Promote processing of scrap and other secondary materials.
•Promote reuse of slag and sludge. Communication with mining com-panies through CBNC and THPAL.
Significant Environmental Accidents: Initiatives
The Appropriate Management of Tailings Dams (Slag Accumulation Sites)
Accumulation sites in which tailings from mines are dumped can collapse and cause considerable damage.
In August 2020, Global Tailings Review (GTR) formulated the Global Industry Standard on Tailings Management (GISTM). The International Council on Mining and Metals (ICMM; see supplementary ESG Data Book 2021, p. 22) is committed to compliance with GISTM. As a member of ICMM, we are conducting examinations to comply with the standard.
At closed mines managed by our Group, we treat waste-water containing heavy metals discharged from drifts and manage tailing dams that collect slag discharged by mineral ore processing facilities. We have enacted safety measures at 42 tailing dam locations we manage in Japan. In regard to stabilization work, we responded to revisions to management criteria for accumulation sites made in light of the Great East Japan Earthquake in 2011, and in the period up to 2020, invested a total of approximately ¥4.5 billion.
As treating wastewater requires removing heavy metals until water quality meets wastewater quality standards, it is a key part of the management of closed mines, so a portion of treatment costs are subsidized by the Japanese government. In recent years, there has been increasing attention on passive treatment1 technologies that use microbes to remove heavy metals.
We will continue performing management to ensure stability as we strengthen and improve our equipment and infrastructure.
There were no significant leakage accidents in FY2020.
Passive treatment is a natural method of purifying wastewater that does not require the use of force or chemicals. It is expected to find use as a lower cost, more environmentally friendly process than wastewater treatment using chemicals.
Biodiversity: Initiatives and Sustainability Data
Effective Use of Water Resources (Water Stewardship)
Our Group's manufacturing processes require large amounts of water, particularly in the Smelting & Refining Business. At the same time, water is a shared resource of local regions and is closely connected to the lives of local residents and communities, as well as to the surrounding ecosystem.
We must consider local communities and the environment in areas where we use water, and make responsible use of water. We can also make contributions to the community in connection with water. As such, we are undertaking a number of initiatives related to water.
Prevention of excessive withdrawal of water by understand-ing the amounts of withdrawal by source
Reduction of water withdrawal and effluent amounts by promoting the use of recycled and reused water
Promotion of effective use of water by understanding water balance and optimizing our amounts used
Reduction of environmental impact by reducing amounts of hazardous chemical substances in effluent discharged into water
Promotion of preservation of biodiversity through aquatic life monitoring surveys near our business sites
Promotion of infrastructure development in areas where access to water is difficult
Every year, we respond to the CDP's water security questionnaire regarding our Group's water management.
Enforcement of Chemical Management
When a business site intends to handle a new chemical, it conducts a preliminary study that covers hazard statements and other applicable information, and deliberates on safety in a meeting at the business site before deciding whether to adopt the handling of said chemical. In addition, to enable appropriate and safe use of chemicals throughout the supply chain, we also provide customers with information on SMM Group products using safety data sheets (SDS), regardless of whether or not we are legally obligated to do so.
Enforcement of Environment-Related Compliance
In addition to providing education on environmental laws, each year we hold seminars on laws and regulations for personnel in charge of the environment at business sites. We also gather information in a range of areas such as legal amendments, including the REACH Regulation2 and other overseas regulations.
REACH Regulation: The Regulation on Registration, Evaluation, Authorisation and Restriction of Chemicals. An EU regulation concerning the registration, evaluation, approval, and limiting of chemical substances.
Consideration of Biodiversity
We are working to reduce the environmental impact of our development efforts, operations, and product use in order to minimize any undesirable direct or indirect impacts on biodiversity.
We are systematically curbing our discharges of chemicals and other substances, and continue to further cut our emissions of hazardous chemical substances.
To preserve the ecosystems as well as the foundation of life for communities in the area around the Hishikari Mine, SMM conducts annual environmental monitoring surveys in the area, analyzing 18 items including water quality, rice paddy soil, unpolished rice, straw, and other natural elements every year. Every other year, we catch fish to check for abnormal levels of heavy metals.
In the Philippines, Coral Bay Nickel Corporation (CBNC) and Taganito HPAL Nickel Corporation (THPAL) undertake green-ing activities. CBNC holds a yearly Shokuju (Tree Planting) Day event in which employees and local residents plant seedlings.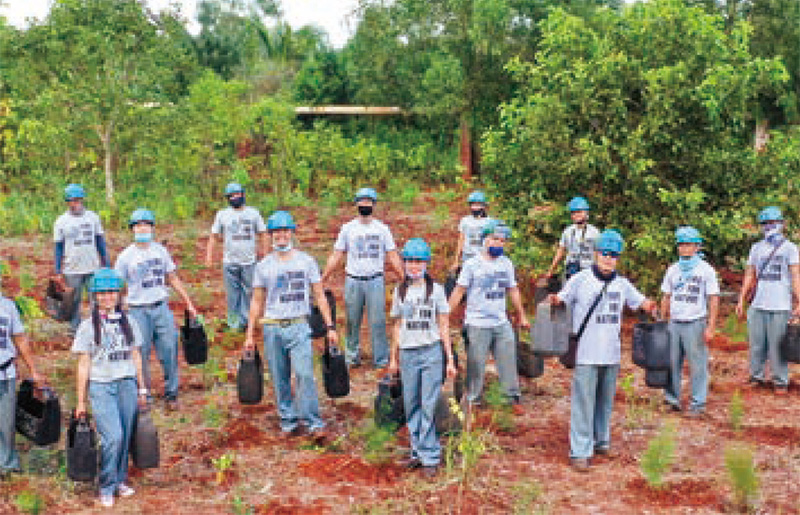 Scene from Shokuju (Tree Planting) Day
Reducing the Environmental Impact of Constructing New Plants
CBNC and THPAL in the Philippines produce electrolytic nickel and nickel sulfate intermediates. To construct a refinery in the Philippines, we first had to obtain an Environmental Compliance Certificate (ECC) from the Department of Environment and Natural Resources (DENR). This required submitting an Environmental Impact Assessment (EIA).
When constructing the refinery, we sought adequate dialogue with the Philippine government, local authorities and local citizens right from the planning stage. Efforts were made to construct a plant that would have a minimal impact on the environment. For example, a pier used to deliver sulfuric acid and methanol to the plant was made to circle around the coral reef, and wastewater outlets were also positioned to ensure the reef's protection.
CBNC began operations of the refinery in April 2005 based on a design certified by the DENR, and was followed by THPAL in October 2013. The refineries have set up Environ-mental Management Offices (EMO) as bodies to promote environmental initiatives in operations. Besides environmental surveys by the EMO, the environment is monitored by a team of representatives from organizations such as the DENR, local authorities and NGOs which carry out regular sampling of the air, water, flora and fauna. With this sort of environmental monitoring, we check that the construction and operation of plants do not have serious impacts on the ecosystem, while keeping environmental impacts from wastewater and other factors to a minimum.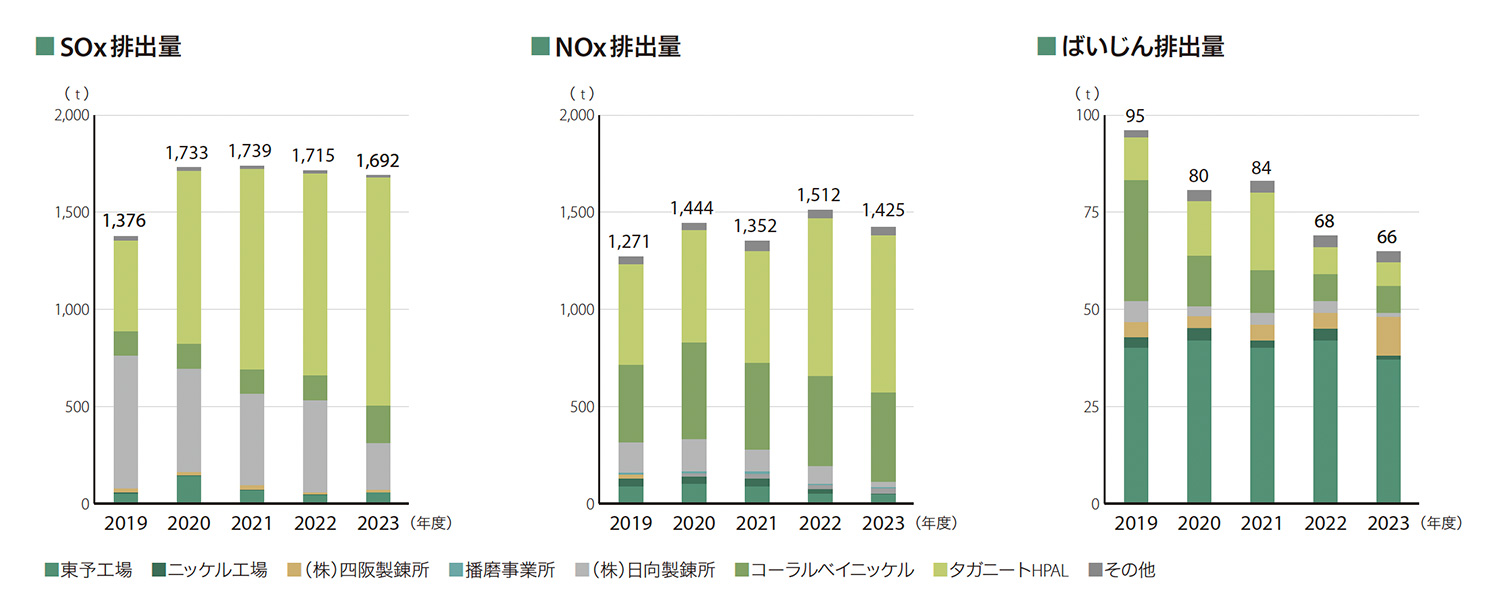 Rooted coral planted since 2005
Amount of Land Developed or Rehabilitated (FY2020)
(hectares)
A: Total area of land not rehabili-tated (as of the end of FY2019)
B: Area of land newly developed in FY2020
C: Area of land newly rehabilitated in FY2020
D: Total area of land developed but not rehabilitated
(A+B-C)
Hishikari Mine
22
0
0
22
Coral Bay Nickel Corporation
274
6
0
280
Taganito HPAL Nickel Corporation
567*1
0
-2*2
568
*1

The area of the developed land was reviewed on the basis of the survey results.

*2

THPAL conducted rehabilitation of 12 hectares in the developed land in fiscal 2020. However, as the survey shows a decrease in existing rehabilitated area due to with-ering and other factors, the area of newly rehabilitated land is adjusted. THPAL is also advancing rehabilitation activities in nearby regions outside the site. In coopera-tion with the Philippine government, rehabilitation of 74 hectares was achieved in FY2020 in nearby regions outside the site. To date, 455 hectares in total have been certified as rehabilitated area.
Material Flows within Business Activity (FY2020)
INPUTS (Resources & Energy)
Raw Materials
| | |
| --- | --- |
| Gold and silver ore | 191 kt |
| Copper concentrates | 1,441 kt |
| Nickel oxide ore | 8,581 kt |
| Nickel matte, etc. | 39 kt |
| | |
| --- | --- |
| Raw material for batteries | 75 kt |
| ALC raw material, incl. silica rock | 159 kt |
| Hydrotreating catalyst raw material | 39 kt |
Recycled Materials1(*)
| | |
| --- | --- |
| Copper scrap | 135 kt |
| Secondary zinc | 19 kt |
| Secondary precious metals | 4 kt |
| | |
| --- | --- |
| Electric arc furnace dust | 71 kt |
| ALC waste | 73 t |
Percentage of recycled input raw materials used 2.13%
Does not include materials recycled within plants.
Materials
| | |
| --- | --- |
| Silica sand(for copper smelting) | 122 kt |
| Chemicals (lime-based) | 1,202 kt |
| Chemicals (sodium-based) | 106 kt |
| | |
| --- | --- |
| Chemicals (magnesium-based) | 14 kt |
| Sulfuric acid | 460 kt |
| Cement, etc. | 103 kt |
Non-renewable sources
Energy*
Consumption
Energy Value
Heavy oil
44,991 kL
1,843 TJ
Coal/coke
535,636 t
13,817 TJ
Diesel/gasoline/kerosene
18,145 kL
680 TJ
LPG・LNG
8,812 t
448 TJ
City gas
8,775 ML
395 TJ
Purchased electricity
1,486,802 MWh
14,465 TJ
Purchased steam
65,802 GJ
67 TJ
Sub-total
31,716 TJ
Renewable sources
| Energy* | Consumption | Energy Value |
| --- | --- | --- |
| Solar power generation, binary power generation | 306 MWh | 0.03 TJ |
| Wood pellets | 621 t | 12 TJ |
| Total energy consumption | - | 31,728 TJ |
Calorific values for both Japan and overseas are calculated using coefficients conforming to the Japanese Act on the Rational Use, etc. of Energy for fuel, heat, electricity, etc. that were consumed in busi-ness activities both in Japan and overseas. Fuels used as reducing agents are also included. Energy value indicates the energy input in the case of purchased electricity and purchased steam, and calorific value for all others.
Water*1
Total volume of fresh water withdrawn
35,173 ML
Breakdown of Total volume of fresh water withdrawn
Surface water (rivers)
13,717 ML
Rain water
68 ML
Ground water
6,657 ML
Industrial water (water from another organization)
14,339 ML
Tap water (water from another organization)
393 ML
Volume of seawater withdrawn
165,132 ML
Total volume of water consumed from all areas*2
4,281 ML
*1

SMM uses the WWF/DEG Water Risk Filter to determine regions with high water stress. As a result of this, there are no areas of high water stress at SMM Group's production sites.

*2

The total water consumption is estimated by subtracting the total amount of water discharged from the total amount of water withdrawn.
OUTPUTS (Products & Emissions)
Products
| | |
| --- | --- |
| Electrolytic copper | 443 kt |
| Gold | 17 t |
| Silver | 203 t |
| Electrolytic nickel | 56 kt |
| Nickel sulfate | 11 kt |
| Electrolytic cobalt | 4 kt |
| Crude zinc oxide | 33 kt |
| | |
| --- | --- |
| Ferronickel | 70 kt |
| Battery materials | 49 kt |
| Sulfuric acid | 341 kt |
| Slag | 1,458 kt |
| Hydrotreating catalysts | 7 kt |
| ALC(Siporex) | 327 ML |
Percentage of products from recycled input 4.87%
Emissions into the Atmosphere
CO2
2,785 kt
Breakdown of CO2
Scope 1
(direct emissions)*1
1,877 kt
(Decrease of 65 kt compared to the previous fiscal year)
Scope 2
(indirect emissions)*2
882 kt
(Increase of 17 kt compared to the previous fiscal year)
Scope 3
(emissions during domestic transport)*3
25 kt
(The same year on year)
SOx
1,733 t
NOx
1,444 t
Soot and dust
80 t
PRTR substances
9 t
*1

Direct emissions for both Japan and overseas are calculated using emission factors conforming to the Japanese Act on Promotion of Global Warming Countermeasures. This includes non-energy-derived GHG emissions (385 kt-CO2e) that are outside the scope of the law. GHGs from wood pellets are not included.

*2

The amount of GHG emissions from electric power purchased in Japan is calculated according to the market-based method using the emission factors of electric suppliers. For overseas emission factors, we used the latest emission factors for each country as published by the IEA. The amount of indirect emissions was 744 kt-CO2e when calculated for both Japan and overseas with the location-based method using IEA country-specific emission factors.

*3

Emissions during transportation in Japan are calculated in line with the Act on the Rational Use, etc. of Energy and the Act on Promotion of Global Warming Countermeasures.
Waste (including Items of Value)
Total waste
6,857 kt
Breakdown of total waste
Spoil
3 kt
Wastewater sludge from CBNC, THPAL, etc.
6,777 kt
Industrial waste (Japan)
76 kt
Other
1 kt
Landfill on company premises
6,780 kt
PRTR substances*
1,822 t
Discharges into rivers flowing into enclosed seas are included as "discharges into seas."
Emissions into Water
Total wastewater
199,057 ML
Breakdown of total waste
Discharges into seas*
198,051 ML
Discharges into rivers
965 ML
Sewerage, etc.
42 ML
COD(chemical oxygen demand)
49 t
BOD(biochemical oxygen demand)
15 t
Total phosphorus
1 t
Total nitrogen
69 t
PRTR substances (discharged into public water areas)
74 t
PRTR substances (discharged into the soil or in landfills within business premises)
3 t
Total transfers to sewerage and off-site transfers.